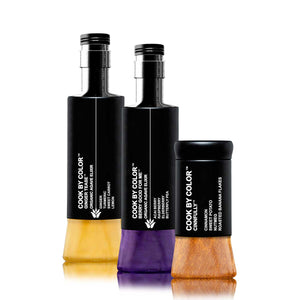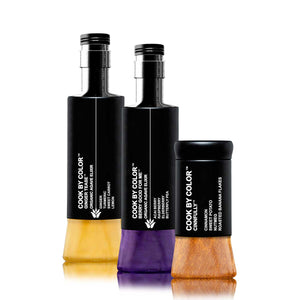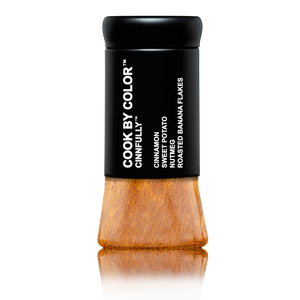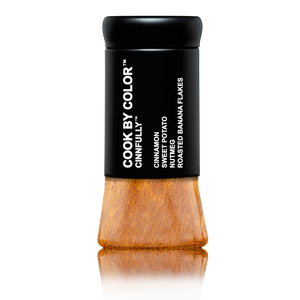 On Sale
Barista Set
Barista Seasonings and Organic Agave Set:
Berry Good For Me™ Organic Agave Elixir

Ginger Tease™ 

Organic Agave Elixir
Cinfully

™

Seasonings
Clean Label Nutritional Facts: 100% Natural, 0 Calories, 0 Sodium, 0 Gluten , 0 MSG, 0 GMO, 0 Additives, 0 Preservatives.
Java, joe, dirt, mud, brew, cuppa, daily grind, lifeblood, tar, rocket fuel, has met its flavor companion. Cook By Color's set of 4 gourmet and organic flavors will give each cup its own natural, full, and robust taste.
Goes Great With: Affogatos, americanos, lattes, mochas, café au lait, cappuccinos, cold brews, double shots (doppio), espressos, flat whites, frappes, freak shakes, Irish creams.
Ginger Tease™ ORGANIC AGAVE ELIXIR: Is that perfect full flavor that teases you for another hot cup, and another cold cup of Ginger, Turmeric, Sweet Carrot, and Lemon luring you in with each uplifting flavor.
Berry Good For Me™ ORGANIC AGAVE ELIXIR: Is a berry blast of goodness, just the way Mother Nature intended. With a burst of Acai Berry, Raspberry, Elderberry, and Butterfly Pea you can now transform any blend or slow drip into an amazingly flavorful and healthy delight.
Cinnfully™: Just because you are an angel, doesn't mean you don't have a bad side. Allow this Is delicious guilt-free organic gourmet seasoning blend of Cinnamon, Sweet Potato, Nutmeg, and Roasted Banana Flakes, to keep you in heavenly bliss with a devilish bite.