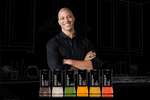 | freSH |
Definition:
Something that has a totally different look and is unlike no other
To mean it is acceptable and highly approved by someone. 
Exceptionally great / fly
Not canned, frozen or otherwise preserved
Bright and healthy in appearance
CLEAN, PURE AND COOL
"FRESH TO DEF"… COOK BY COLOR® SEASONINGS is the epitome of the culture of FRESH. With ingredients in each blend that consist of 100% PURE herbs, fruits, vegetables, spices and contains no GMOs, preservatives, chemicals or MSG. Allowing anybody to create quick, simple, fun, healthy and amazing tasting meals; ranging from breakfast, snacks, lunch and dinner to occasional desserts with a simple splash of color.
"YES, YES Y'ALL"… Cook by Color® is a new philosophy to cooking and embodies this simple life style equation "Complementary Colors = Complementary Taste". This FRESH line of seasonings supports all diets ranging from; Bullet Proof, BBG, Paleo, Atkins, The Zone, Weight Watchers, South beach, Raw Food, Mediterranean, Vegetarian and Vegan. 
"THE GET FRESH CREW"… Cook by Color allows you to cook fresh and stay fresh in the kitchen with handcrafted easy to use blends: 
+ CBC Mushrooming Around (Shitake Mushrooms, Banana, Onion, Garlic)– A pure cozy, sweet flare of herbs and vegetables
+ CBC Sassy Me (Sesame Seed, Pepper Corn, Hawaiian Lava Salt, Vanilla Bean)– A roasted smoky spark of earth, combined with a sweet pure blend of vanilla 
+ CBC Me Myself & Lime (Lime, Chilies, Basil, Cilantro, Kiwi)– A sexy pure blend of sweet heat and tangy herbs
+ CBC Bell of The Ball (Bell Pepper, Smoked Paprika, Raspberry)– A fresh pure pick of sweet, tangy and savory yumminess
+ CBC Habla Habanero (Habanero, Bell Pepper, Sweet Carrot, Orange)– A robust punch of pure heat, with a touch of savory sweetness 
+ CBC Ginger Tease (Ginger, Turmeric, Sweet Carrot, Lemon) – A soft hint of pure spice, zest, packed with savory and earthy notes
"I WANNA ROCK RIGHT NOW"… Rock out with all 6 of Cook By Color® PURE flavorful seasonings.