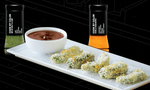 GAME NIGHT? GIRL'S NIGHT IN? MAKE IT YOUR NIGHT…
…Not with potato chips again or some boring store bought unhealthy snack. What type of host welcomes their guest into there home just to serve food with high sodium, cholesterol and chemicals? Only a host that wants to kill their guest LOL…
Try Avocado Fries next time… They're SOOOOO DAMN GOOOOOD!!!
KEY CBC SEASONINGS:
+ Me Myself & Lime (Lime, Chilies, Basil, Cilantro, Kiwi)– A sexy pure blend of sweet heat and tangy herbs
+ Habla Habanero (Habanero, Bell Pepper, Carrot, Orange)– A robust punch of pure heat, with a touch of savory sweetness
RECIPE:
- Cook by Color Seasonings: Me Myself & Lime and Habla Habanero
- Avocados - Cut into slices (1 Avocado per person)
- 2 Egg yokes
- ¼ Cup Coconut Milk or Regular Milk
- Panko Bread Crumbs
- Pam Olive Oil spray
- Pinch of Sea Salt
- (Optional Dipping Sauce) Sweet Baby Rays - BBQ & Ranch Sauce
 DIRECTIONS:
1. Pre-heat oven to 400 degrees
2. Grab your Avocados and strip them of their outer skin and seed, then cut them into ½ inch slices
3. Whip Egg yolks with a ¼ cup of milk
4. Bathe ½ cut Avocados in egg yolk/milk mixture
5. Grab a bowl and pour your Panko Bread Crumbs into it, then bathe the egg dipped Avocados in the bowl of Panko until evenly coated
6. Place Panko covered Avocados on a baking pan with a baking sheet or aluminum foil, spread evenly
7. Sprinkle Cook by Color Seasonings: Me Myself & Lime and Habla Habanero (WARNING: be careful of the Habla Habanero – its sweet and has a bunch of flavor… but it packs a lot of heat)
8. Spray Pam Olive Oil lightly on Avocado fries and then place them in the oven for 10 minutes, then flip them and spray another light coat of Pam. Place them back in the oven for 5 minutes or until golden brown
9. Take out of the oven and enjoy!!!