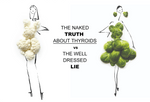 5 DELICIOUS WAYS TO FLAVOR YOUR THYROID GLAND SUPERFOODS
Couple of quick points:
Men and women both can be effected by various Thyroids
There is no such thing as a Thyroid Diet
In this issue I want to share some great ways to flavor some Superfoods that you can eat to help control your Thyroid issues. Let's first breakdown what Thyroids are and how they effect your body and then get down to the types of food you should be eating and how to make them delicious.
While nearly 20 million Americans have thyroid disorders, only about 40 percent are aware of their condition. Browse this symptom checklist to see if you might have a thyroid disorder.
If your thyroid is not producing enough hormones, a condition known as hypothyroidism, it can affect your body in negative ways and leave you feeling sluggish. Thyroid hormones are essential as they regulate energy levels, metabolism, body temperature, mood, heart rate, and blood pressure. So try upping your iodine; It's really no secret that iodine is essential for thyroid health. Thyroid hormones such as thyroxine (T4) and triiodothyronine (T3) are named T4 and T3 due to the number of iodine molecules they possess. T4 possesses four iodine molecules and T3 possesses three. Without iodine your body simply cannot make these thyroid hormones.
Iodine deficiency is unfortunately very common, though we can increase our intake of it by consuming iodine rich foods such as seaweed, fortified dairy products and seafood.
Thyroid Superfoods
While the cause of thyroid disorders is largely unknown, there is evidence that certain foods can aid in thyroid function. If you have hypothyroidism, here are five foods to add to your diet and flavor tips.
Seaweed, such as kelp, nori, and wakame, are naturally rich in iodine—a trace element needed for normal thyroid function. Eat seaweed with sushi or get packaged seaweed snacks to toss in salads.
| | |
| --- | --- |
| FLAVOR RECIPE: GINGER TEASE SMOKED SALMON NORI ROLL: | Get your hands on some avocado, Wild caught smoked salmon, Roasted nori, Lemon, Micro greens or sprouts, Carrot, Flavor with Cook By Color's Ginger Tease gourmet seasoning and Organic Agave And wrap it all up |
Brazil nuts, macadamia nuts, and hazelnuts are excellent sources of selenium, which helps support healthy thyroid function. Pack a small bag of assorted nuts to snack on throughout the day.
| | |
| --- | --- |
| FLAVOR RECIPE: ROSE MARRY ME MIXED NUTS: | Grab a bag of mixed nuts, Flavor with Cook By Color's Rose Marry Me Organic Avocado Oil, Flavor with Cook By Color's Rose Marry Me Seasoning gourmet blend, Bake for 15 minutes @250º  |
Fish is rich in Omega-3 fatty acids and selenium, which both help decrease inflammation. Bake salmon, cod, sea bass, haddock, or perch for lunch or dinner to get a healthy dose of Omega-3s and selenium.
| | |
| --- | --- |
|  FLAVOR RECIPE: HABLA HABANERO BAKED FISH | Heat the oven 400º and cook for 12-15 mins, Place fish in oven with drizzles of Cook By Color's Habla Habanero Organic Avocado Oil, Season with Habla Habanero & Sassy Me gourmet seasoning blend after fish is cooked |
Frozen yogurt - Dairy products like yogurt, ice cream, and milk contain iodine. The thyroid needs iodine to prevent its glands from becoming enlarged—known as goiter. Treat yourself to a low-fat serving of frozen yogurt to get sufficient levels of iodine.
| | |
| --- | --- |
| FLAVOR RECIPE: BERRY GOOD FOR ME YOGURT DELIGHT | Grab your choice of yogurt or ice cream, Flavor with Cook By Color's Berry Good For Me, Cinnfully, Say She Ate It or Ginger Tease gourmet seasoning blends |
Fresh eggs - Eggs contain healthy amounts of both selenium and iodine. For the most health benefits, eat the whole egg, as the yolk holds most of the nutrients.
| | |
| --- | --- |
|  FLAVOR RECIPE: BELL OF THE BALL HARD BOILED EGGS | Grab a few hard boil eggs, Remove shell, Cut in half, Flavor with Cook By Color's Bell Of The Ball or Me Myself & Lime gourmet seasoning blends |
Artist image credit: (IG) @groehrs